,
Seafriends - Marine reserves a failure
This article appeared in the Sunday Star of 19 March 1995, by Bob Drent.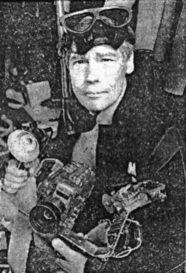 A conservationist who runs an eco-tourism business at New zealand's first marine reserve believes underwater reserves are not working.
Dr Floor Anthoni, whose "Seafriends" marine education centre operates at the Goat Island reserve off Leigh near Warkworth, north of Auckland, will deliver a broadside on the make-up of reserves in a lecture during Seaweek, which begins Saturday.
Dr Anthoni, a computer scientist and self-taught marine biologist, who has dived at Goat Island for 19 years, said the reserve was simply not large enough to work. The mistake of failing to create reserves big enough to contain a full marine habitat was now being duplicated at other sites around the country, he said.
Goat Island, used initially for scientific study, was gazetted as a reserve in 1975 and is about 4 sq/Km. Dr Anthoni said a minimum size marine reserve needed to be about 30sq/Km, to include a full coastal system.
Recently at Goat Island, big snapper and big crayfish had disappeared as both professional and amateur fisherman "realise there are more fish inside than outside and as a result they fish on the boundaries of the reserve more than anywhere else".
"Any crayfish straying outside of the boundaries is caught so they are not straying back again. Poaching was also rife at Leigh", Dr Anthoni said.
"I am the most ardent fighter for reserves, but let's have a cuppa, slow down and look at introducing reserves that are working and not have any 'Claytons reserves'," Dr Anthoni said. "The Cathedral Cove reserve at Hahei in the Coromandel had been turned into a 'Claytons reserve' with parts of coast and sea excluded in a compromise to allow fishing", he said. "The most interesting part of Hahei is not in the reserve".
Money needed to be spent policing the reserves and protecting them from poaching, he said. The challenge is to have proactive no-take reserves rather than passive no-take reserves.
New Zealanders' attitudes towards national parks and reserves, which were usually created in remote, unfamable and unforestable areas, needed to change. We have got used to having reserves because they could not be used for anything else - this needs to change as we introduce more marine reserves.
"There has to be a commitment to create paradises around New Zealand".
Bill Ballantine, a marine biologist at the Auckland University marine research station at Goat Island, refused to comment on Dr Anthoni's statements.
According to the Department of Conservation,about 30% of New Zealand's land is protected by some form of reserve, but less than 1% of our 15,000Km coastline is protected in a marine reserve. New Zealand has now 11 marine reserves and more than 25 areas under consideration to be made marine reserves.
---