Date Sunday 19 May 2013. 09:00 NZ Standard Time. Low tide at 07:40,20:00 (1.0-2.9m).
Condition: UNSAFE,BAD,POOR,FAIR,GOOD, VERY GOOD, EXCELLENT,

This is what the sea looked like this morning: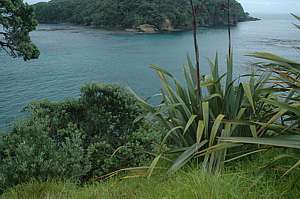 Goat Island Scattered cloud with chance of rain and sunshine . Moderate NW wind with waves, slight swelll.. Visibility poor (1-3m) . . Temperature 19ºC. Huge masses of broken kelp still on beaches and in the shallows. The rotting kelp colours near-shore water brown. The swell is stirring the bottom, clouding the water. More rain expected this week.

The Seafriends centre is open daily 9:00-16:00 cheapest prices and awesome, clean gear. We've been doing this for over 20 years! Open9-4PM every day till June 2013. Great coffees; tasty meals.
Watch our movie/slideshow on YouTube: The Fishes of Goat Island, part1, part2. 27 minutes. Shows the common fishes of Goat Island, with narrative and subtitles that translate into many of the world's languages.
A very large coastal slip occurred and many smaller ones, about 200m left of this photo and another one closer by. Because of this, the water will be dirtier than years before. Every high tide and particularly spring high tides with waves, will carve out more mud from these slips. Patches of dirty water then swirl around with patches of clearer water, leaving the beach area much dirtier than outlying areas like Alphabet Bay, and often muddying the whole area around Goat Island. See here. Clear water expected at 1. neap tides, 2. E winds, 3. no swell, but not always predictable.
A snorkeldiver lasts for 25 minutes without, but for 2-3 hours in our unisuits with hood. $30 all gear all day 9AM-7PM! Discounts for groups or families Discover Goat Island.
Protect yourself against the cold and wear a warm safe protective wet-suit. The water is cold especially if you wish to spend some time in the water. Don't underestimate the cold as cramp can cripple you unexpectedly. Wear the warm Seafriends'safety suits! Be safe rather than sorry. You are in the Pacific Ocean; not in the Hauraki Gulf! A middle-aged man drowned at Goat Island Saturday 11 December 2010, and was not wearing a protective wetsuit. A small cause can then lead to death.

Matheson Bay: calm but murky.

Whangateau estuary: Clearest around high tide. Snorkel in the Whangateau estuary around high tide, sheltered from westerlies and northerlies. Visibility at high tide not monitored, but less than Goat Island.

Outlook: NZ is in the grip of a very large rain front and low, causing rain with moderate winds for Sa-Mo 18-20/5 and continued Tu-Th 21-23/5.But a high over the S Tasman moves E with S winds and improving weather for next weekend Fr 24 to Su 26/5.Not good for snorkelling before Th 23/5.


Snorkel hire: cheapest, cleanest, huge choice, many sizes and optical masks for short- and long-sightedness. Visit Seafriends at the top of the Goat Island Rd for the best deals, most choice and cleanest gear. When the sea is still cold, most snorkel pleasure can be attained by wearing our fully covering double thickness 5mm wetsuits. A complete set is only $30 for the day! Stay warm, stay safe, stay out of the sun, stay comfortable in a single long safety wetsuit (unisuit). Family and group discounts offered. Additional hoods are free. Optically corrected masks -8 to +4 diopters. Bright night-dive torches for night snorkelling. Take a warm shower after the dive, at Seafriends. No need to starve or go thirsty because the Seafriends Café is open 9-4 with great coffees and fresh food. Lots of information and marine aquariums to explore. Bring family and friends to camp nearby.

Help our education centre and help our local community! Remember, we are the people fighting to save our seas - YOUR sea, your children's sea. Find out why, on our web site. Support Seafriends!
Seafriends: 7 Goat Island Rd, Leigh RD5. Ph/Fx 094226212. At the top of the Goat Island Road. E-mail now.